Plafondplast, a Leader in the industry for 40 years now
Each day our passion drives us to further heights .
Plafondplast Srl
The company was set up in 1973 by the husband and wife team Romanello Balocchi and Fiorella Vallisa for the manufacture of plastic suspended ceilings.
Over the next two years, production is converted to the extrusion of PVC tubing for the construction sector, drainage systems and the protection of electrical and telephone cables.
The success achieved in this sector and the recognition by many clients of the quality, trustworthiness, value-for-money and ease-of-use of the "Plafond" tubing makes the company the LEADER in the production of threaded special-use tubing.
The Plafondplast company philosophy, matured over thirty years' experience, focuses on the constant control of every production phase. The manufacture of PLAFOND tubing starts with the planning and construction of the machinery, using the knowledge of the materials used and the experience in various fields of application of the finished product.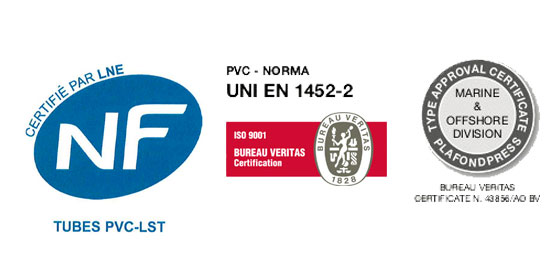 CERTIFICATIONS
PlafondPlast pipes are in compliance with the standard UNI EN ISO 9001:2008 – BUREAU VERITAS, quality certificates highly rated throughout the world.